I kept seeing sandpaper alphabets on wooden circles everywhere I thought it was a nice idea but living in a small town I couldn't find the wooden circles. It would have meant driving 1h30 to the US to get some and frankly that was just ridiculous to do for such a small project, so I left it alone for a while. Then one day it hit me! Literally, I smacked myself on the forehead when I got the idea, like "Duh! why didn't you think of this before?!"

I had foam poster board left over from a project I had made for his birthday and thought I can make my own circles and use those felt sticky letters I found at the dollar store the other day. Of course I didn't want to do just circles cause they are a pain to cut in that foam board so I got creative with other shapes also thinking about sequences. Then I picked different colors he knew or had seen before. (The letters are not glued, just laid on to show the alphabet.)
I (and hubby) painted each shape a minimum of 2 coats depending on the color taking care of doing the edge as well. After all that was done we double coated each shape with Modge Podge to make them a little more toddler resistant, lol. Then we stuck the sticky felt letters on there and voilà!
We put those in his advent calendar which we also made, the last 2 days he got 2 and he wanted more the following day, lol.
I want to say that the hubby (Alex) helped in all the steps of this, it was a parents' effort not just a mommy one.
 Update: Check this post to see all we did with them!
If you do this, we'd LOVE to see a photo of it. Email it to us or post it on our Facebook page. Don't forget to also follow us on Pinterest and our "Around the World in 12 Dishes" series also has its own Pinterest boards for each country. We'd love to do a Facebook album, a Pinterest board and a page of your creations
Shared on: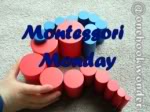 (5662)