So it is winter – what does that mean? Shorts, sun and less sweating than in summer? OK, then you might be in Texas, Florida or California, here in Quebec it stands for snow, cold, wind, snow, short days and have I mentioned snow? I have to admit that I wanted to return this particular winter, because I think that it is broken (not much snow, freezing rain all over the place and yo-yo temperatures), but that's not the point.
Nico loves being outside and he doesn't really care what kind of weather or temperature it is, so one day it had snowed not long ago and we were shoveling the deck in the backyard and Nico makes a swinging motion and points to his swing set out in the yard. I look at him and at the snow covered swing and thought – what the heck, why not.
So we shoveled our way to the swing and cleared the area around the swing (Nico helped as much as he could) and the swing itself, there was still some wetness, but since we had stuck Nico into his snow pants anyways, that didn't really matter too much.
As soon as he sat in his dolphin swing, and I started to push him, it was SO worth clearing it, because he had so much fun and the look of happiness on his face was just plainly priceless, so don't let the weather or the season stop you from having your child (and you) have fun!
If you do this, we'd LOVE to see a photo of it. Email it to us or post it on our Facebook page. We'd love to do a Facebook album, a Pinterest board and a page of your creations
Shared on: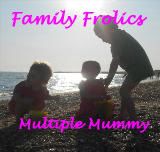 (2238)