I took the inspiration from Lynn's Kitchen Adventures bacon spaghetti. But I decided to use macaroni since Nico was on a mac kick and frankly at that age it's also easier to eat. I also made a few changes to fit our family's need, the need for speed! LOL
You will need:
Pasta
Pasta sauce (one you like)
A pack of bacon (here they are 500g)
Peppers
Onions
Herbs (I used parsley, oregano, basil, celery salt, garlic salt, Italian herbs) (optional)
Nico helped and cut some peppers, while we chopped the onions.
Alex cut the bacon slices in pieces and we cooked them up in the wok. Because the wok has a glass lid it avoided a lot of bacon splatter everywhere.
We drained the bacon and kept a bit (1-2 tablespoons) of fat to cook the peppers and onions in.
In the mean time the pasta were cooking as per instructions.
Once that was done we added some of our pasta sauce, not too much, just enough to coat the pasta. In Lynn's recipe she uses tomatoes, but I don't like their texture so I used sauce. I, of course, can't leave it as is and added some herbs to our liking.
Once the sauce was warmed through, we added the strained pasta and bacon pieces. Nico did his favorite part in cooking/baking, stirring!
I left it on for a few minutes on low heat with the lid on just to have everything at the same temperature.
Then we just enjoyed our quick yummy dinner. He wanted me to feed him, I didn't want a battle, so I did.
As you can see we also skipped the oven gratiné part, for speed reasons. Although I'm sure you could do it if you wished, just won't be as quick
Little tip: I had lots of leftover, I always cook bigger portions, but it works great warmed up in the microwave. I just added a few table spoon of the leftover pasta sauce to make it more moist as the microwave tends to dries things.
If you do this, we'd LOVE to see a photo of it. Email it to us or post it on our Facebook page. We'd love to do a Facebook album, a Pinterest board and a page of your creations
Shared on: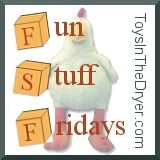 (1639)