While looking around on the internet, I found something that looked interesting: the "Tall Ships At The Quay" at the Old Port of Montreal. What it is is basically six tall (who would have thought?) ships (wow!) at the…eh… it is six sail ships that are either restored originals or reproduction of vessels from the 19th and 20th century at Montreal's Old Port for people to visit, with a whole maritime village attached to it, with fun activities for both children and adults.
Since the weather was supposed to be nice and an opportunity such as this only comes up once a year, we figured to give it a shot and see, if Nico, who had just turned 2, might not be able to enjoy seeing some of those magnificent ships/boats/vessels/floating devices (please pick your favourite) and packed up for the day. Given that it was in mid-September, the forecast was for nice, but cold and since we would be at the edge of the water, we figured that there would be wind, it would be colder and dressed accordingly. Oy boy, what a misconception, it was beautifully sunny, hardly any wind and got really, really warm, good that we usually dress in layers, even though Valerie had a thicker sweater on and maybe should have one or two thinner layers instead, so needless to say, she had her own mobile sauna on her…
When we got to the pier next door, which basically is a parkade, we could see the ships at the pier and Nico's eyes got a bit bigger already. We put him into his stroller and went over, amazed already by how warm it was and for the port there was a lot less wind than we had expected. The wait at the entrance did not take as long as we had feared it would and we decided to check out the maritime village after and concentrate on the ships first, hoping that we'd be able to beat the rush.
Well, there already was quite the line-up of people waiting for the gates to open, but for one Nico was doing really good and patient and for the other once they opened up, it went fairly quick to walk down the walkway towards the ships.
I personally had only been on a tall ship like these once before in my life, in Göteborg, Sweden, it was the first time for Valerie as well, so it was a great experience for the three of us, aided by the gorgeous, if unexpectedly warm weather that had really taken us by surprise. We were able to take some great photos of Nico, on a cannon, on ropes, he was able to ring a ship's bell, stand at the helm of one of the ships, he had a blast and that was the main thing. As it turned out, when we went back up onto the pier with the maritime village we saw that there indeed were way more people waiting in line now, so it was the right decision.
The village had a stage (nothing going on at the time we got there), several pavilions with food and drink, some children's activities and info booths, we did not do too much of it anymore, since we were pretty much spent from the standing and the heat, so we grabbed some pizza to eat, put Nico's hand outlines and some drawing onto the sail of a boat, there was a sailor walking around cleaning the sidewalk, a children's pirate obstacle course (Nico was too young for it) and other stuff, before heading home. On our way in we had seen a food truck parked outside, which I had briefly checked out – cookies! – so before we left we made sure to grab some – ooey, gooey deliciousness, gotta love food trucks, a pity that we do not have a lot of those around here.
Nico was out before we got to the van, he barely woke up when we strapped him in, just after we left, he was out and snoring again, probably happily dreaming of ships and water and sails and…cookies… All in all it was a beautiful day and it really was a great experience to be able to see those ships and be on them, if you have a chance to see some of those ships with your kids, you should really consider it, it will be worth it!
For some more information on the ships, please click here!
Shared on: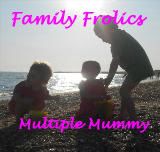 (2984)