(The bunny gallery)
Most of you have made things from egg cartons before, generally speaking it's the little caterpillar, we made some of those a few weeks back, too, for the first time. I was gonna enter them in Tinkerlab's egg carton challenge even though it wasn't original. It was bugging me though, I needed to find something else… I thought for weeks and with Easter approaching and us having done no crafts for it (we were Valentines day burned out, we overdid it a bit) I came up with those.
(From carton to bunny)
I took the egg carton, separated and roughly leveled all the cups, I used a hole punch and punched a hole near the edge (not too close or it will rip) in all of them. I cut a pipe cleaner just long enough to twist and turn back in so he wouldn't prick himself. I gave a quick coat of white tempera on them so the colors he would pick would come out brighter.
(Pink bunny for Grandma)
Then I let him him pick his colors and paint them. I had to hold them since they were already attached and it was tricky for him (he's only 2.5 yo after all).
(Painting a bunny on the inside)
The second batch I didn't attach right away so it would be easier for him.
(Sticking the eyes on a bunny)
Then we got the little googly eyes out (I happened to have Easter colored ones but you can use any), I made him choose the colors for all of them and he helped sticking them all, even though they are pretty tiny!
(Q-tipping the bunny)
We originally used Q-tips and made a dot for the nose and the bottom paws, he had a little issue aiming (he was too excited) but still I left it. When we did the second batch I asked him if he wanted to put pompoms for the nose and paws and he got very excited and pulled them all out. He chose every color for everyone's bunny. I used a little bit of white cardstock and cut some ears, free-hand. You could go fancy and do some folded ears too.
(Glittering up a bunny ear)
I took foamy double sided tape and stuck it in the middle of the ears. I took our glitter tray and had him move the ears around on all the different glitter colors, shake it off and the ears were done! I glued them on the back of the head. Last thing was teeth, I cut a little white square, stuck it under the nose, waited for it to dry and cut a sliver off and gave them some buck teeth, lol. I used tacky glue to make sure everything would stay on well.
(Filling a bunny with chocolate)
The great thing with those is you can fill them with whatever you want, we put chocolate coins and eggs
(The bunny gallery)
I almost forgot to take a photo of all of them, so I put them on the hood of the van on the way out to deliver them!
And here is our Easter bunny delivering them :):

If you do this, we'd LOVE to see a photo of it. Email it to us or post it on our Facebook page. We'd love to do a Facebook album, a Pinterest board and a page of your creations
Shared on: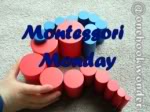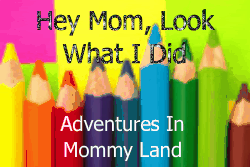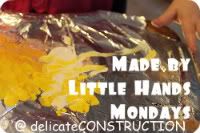 (14533)