Welcome to the first part of our The ABCs of…Farming for Children series, where we take a look at how you can use farming as an educational tool to learn through playing (and of course actually doing it).
Animals – One of the biggest parts of farming are animals and herein also lies one of the biggest opportunities for children to learn various things. Not just about the different kinds of animals, but also the stages of raising them, the goods they produce (be it milk, meat, wool or other things). Visiting a farm (there are pedagogic farms) is a perfect way of introducing children to the role of animals on a farm and in the food cycle. Click here for our post on a visit to such a pedagogic farm. This also enables children to study the differences in behaviour and habits of different animals. Taming The Goblin also has a great post on how children love animals
Bunnies – Bunnies are probably one of the easiest and most docile creatures you can introduce your children to, especially when they are young. From the new sensory experience of their fur over feeding them to caring for them. Hop over to Small Potatoes for a wonderful post about 6 Little Bunnies.
Caring – Farming, be it plants or animals, centers around caring for them. Plants require water, nourishing, cropping and harvesting, animals need food, water, grooming and also veterinary care (not just just when they are sick, but also as part of the routine check-ups). Farming and tending teaches the children that there is a lot more to this than just having some animals in the stable or sowing some seeds in the field. The Freckled Homeschooler has a wonderful post on the topic.
Chickens – An animal you find on pretty much any farm, chickens give plenty of learning opportunities, from the life cycle of chicken to egg (with the potential discussion of what was there first, the chicken or the egg) to then either chick or tasty food ingredient. It also is something that you can really involve a child in (for example picking up eggs, where you can introduce counting the number of eggs you pick up), you can have a look over at The Freckled Homeschooler for a very good example and also the benefits of backyard chickens
Also have a look at Connecting Family and Seoul for a chicken-themed sensory tray. And if you want to see how chicken (scratch) can help with literacy as well, have look at Small Potatoes.
Chores – As much as children hate this word, farming is pretty much a long list of exactly that – chores. Chores that teach responsibility for different things in order to keep everything going, be it sowing, tending, harvesting, feeding, watering, grooming etc.
Cattle – Another staple on farms, cows also give many valuable lessons, starting with the birth of a calf over the giving of milk to their inner workings (just take the number of their stomachs, for example).
Danger – One of the things you rarely think about when you look at farming is danger. At the same time it is a very important lesson to learn, because danger lurks virtually everywhere, be it in tools you use (knives, axes, plows, scissors), the animals you tend to or in plants that might be poisonous.
Eggs – The frail fruit of the chicken does not only yield cute and fluffy baby chicks, but also a cooking ingredient that has the potential to teach your children many things from cracking, stirring, separating, cooking, baking and sometimes even…eating them.
Equipment – Be it hand tools or machinery, farming always involves equipment of some sorts. With children obviously machinery is not a very common occurrence, simple hand tools to shovel, dig and rake can be an excellent way to improve hand eye coordination and fine motor skills in children.
Food – From the beginnings of farming, it has been to yield food and other goods to use for yourself and others and by introducing your children to farming and its results, you can teach them a lot about where the food they eat on a daily basis comes from and how the whole life cycle of plants and animals is tied together.
Fruits – One of the main branches of farming is fruits of different kinds. Many of them growing either on trees or in bushes, so that depending on the age of the children, they can help with both planting and then also harvesting of the fruit. Housing A Forest has a great post about Healthy Dehydrated Snacks for you to check out.
Check here for the next part from G to L!
Overall there are more than 70 bloggers participating in this series, covering all kinds of topics related to children. Below you can find the rest of the participants in the "Learning through play" category, or you may want to browse through the entire series.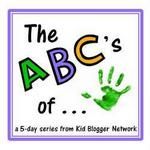 LEARNING THROUGH PLAY
If you like what you see, follow us on Facebook to keep up to date with what we're up to!
(8368)