Possibly THE best place to take your kids in Port Douglas, Australia, is the Wildlife Habitat.
We are bursting with wildlife here in the tropics, you'll see lorikeets, fruitbats, and the occasional cockatoo flapping about. You are very likely to see a giant green tree frog hiding from the heat of the day or climbing your window at night. You may even get lucky and see a wild python or wallaby. But the kids always want to get up close and personal, to touch, feel, hold and stroke. For that you need the Wildlife Habitat.
Feeding the Animals at the Wildlife Habitat.
The Wildlife Habitat features large enclosures for wetlands and rain forest creatures, with a netted roof allowing native birds to fly free. You will see birds up close at feeding stations throughout the day, but joining a guided feeding tour is a great idea. You'll will get all the information you need from the guides and my children have been able to hand feed the cassowaries and throw worms to the kookaburras.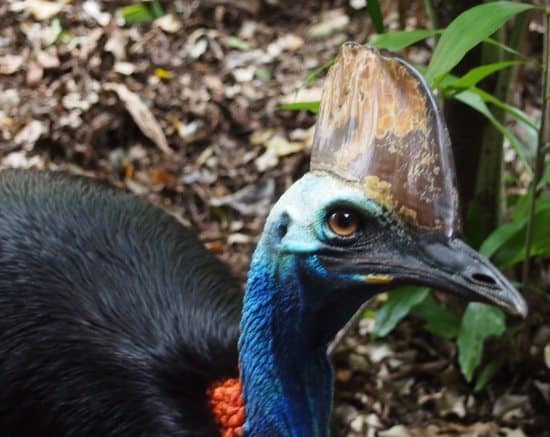 Look up to the rainforest canopy and you will see spectacled flying foxes snoozing the day away. Watch out for huge eels and turtles enjoying  the lakes with the water birds. There are no steps, but there are plenty of raised walkways, access with a stroller is easy but you may want to hang on tightly to little hands. It's not dangerous, but heights and small children always freak me out!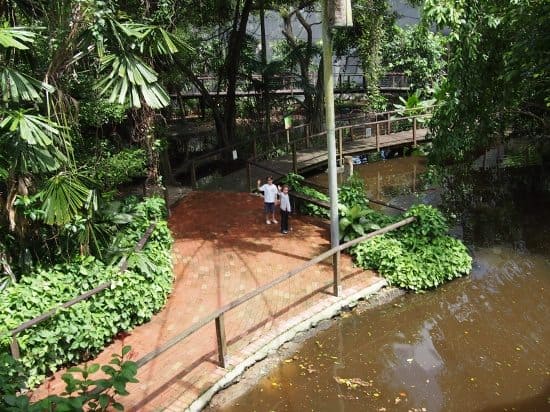 Kangaroos and wallabies of all sorts hang out in the outdoor grassland area. Buy a bag of food on your way in to hand feed then, they are fairly tame. Watch out for the magpie geese, they are bag snatchers!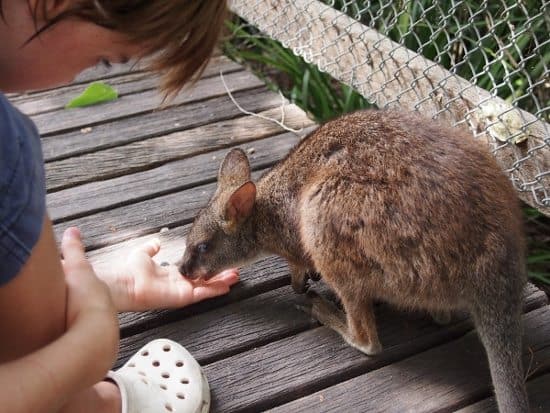 Check pouches, you'll often see a new joey making his debut.
You can have your photo taken holding a koala, it costs approximately an extra $15. Lizards, snakes and small crocodiles are also available to handle at set times throughout the day.
Facilities, Food, Parking and Rest Rooms.
It's all good. Rest rooms are near the entrance and shop, and just off the cafe area.
It can be very, very hot here, it's probably best to come early in the morning, that way the animals will be awake and feeding and you won't swelter quite so much, you can also catch the morning feeding tour. Make sure you bring water and sunblock, hand wipes and gels are a good idea, to get the kangaroo slobber off tiny hands.
The cafe serves drinks and snacks alongside the rather special breakfast and lunch deals.
There is plenty of free parking directly outside the Habitat. You will probably spend around half a day here.
As with anywhere involving animals, there is a degree of poop. I always found it was OK to visit when it was dry, but in the wet it all became a bit icky.
Breakfast With the Birds.
Now this is special! Every morning ( except Christmas) the Wildlife Habitat holds Breakfast With The Birds. The breakfast buffet is pretty good,  you'll find everything you could need and a daily selection of local tropical fruit. The best thing about taking breakfast at the Wildlife Habitat is the company, the table manners aren't great but they're a colourful crowd!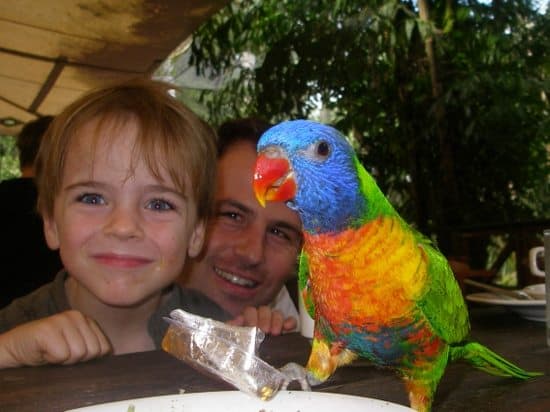 The Wheres and Whens.
Port Douglas is in Far North Queensland, about 1 hour by car north of Cairns. It's a great location for a family holiday, we have a great beach and a fleet of boats taking visitors out to the Great Barrier Reef every day.
For up to date  times and prices check out The Wildlife Habitat website.
My children have always loved going to the Habitat, I hope yours do too. If you are visiting Port Douglas, Cairns or the Far North, feel free to contact me, Alyson, via my family travel blog, World Travel Family. I'd be happy to help you out with any information you may need. I have been living in Port Douglas for the last five years, it's an incredible and beautiful place to be. In mid 2013 I am taking off around the world for a huge family adventure, giving my children an amazing education through travel, you can follow our adventure via the blog or sign up for our Facebook page. Thanks for reading!
(3292)