Glittering Muffins » Cooking, Cooking/Baking, English, Home » Chinese style meatballs and spaghetti
(Feb10, 2013) This is another favorite of Nico's after vegetable soup rice (it's not a soup, but a creamy rice). He LOVES pasta and rice, those are his 2 favorite things to eat, he could have them every day! He doesn't eat regular spaghetti sauce anymore but he will eat meat and sometimes likes it with soy sauce. He also seems to like creamy sauces or sauces like honey garlic or teriyaki. Anyways, my mother used to make those when I was a kid and now I do, because they are simple, tasty and all you need is ground beef (or other ground meat could work) and a jar of honey garlic sauce.
We put a little bit of honey garlic sauce at the bottom of the pot, just to cover it. Then we take the meat (small pack is about 434g), make little meatballs with it, put them in the pot and pour the rest of the jar on top, we put water in the jar (about 1/4), swoosh it around to rinse it all and pour it over the meatballs. We put it on low heat with the lid half on and let it cook, stirring gently occasionally, for about 30-45 minutes, depending on the size of the balls we make (we cut one open to see if it's fully cooked). Sometimes we eat it with rice but this time we had it with spaghetti.
I love this dish because it's simple, quick to prepare, pretty much cooks itself, takes very little ingredients, can be adapted/changed up in many ways (lots of veggies could be added) and we all love it! (as you can see above
)
This is a blog hop! Click on the button below to be taken to the pinterest board and be able to see everyone's recipes in the list below!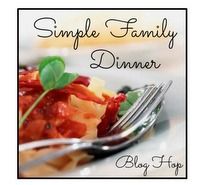 Enchanted Homeschooling Mom
|
Inspired by Family
|
Sun Scholars
|
This Reading Mama
|
Life by Ashley Pichea
|
In Culture Parent
|
Raising Life Long Learners
|
Glittering Muffins
|
Life at the Zoo
|
Octavia and Vicky
|
Kid World Citizen
|
Kitchen Counter Chronicles
|
Nomad Parents
|
Childhood 101
|
Triple T Mum
|
Adventures in Mommydom
|
The Freckled Homeschooler
|
Teach Beside Me
|
The Chirping Moms
|
Discovering the World Through My Son's Eyes
|
So You Call Yourself a Homeschooler
|
Pickle Bums
|
The European Mama
|
The Golden Gleam
|
Forever, For Always, No Matter What
|
Motherhood on a Dime
|
Harrington Harmonies
|
Rainy Day Mum
|
Jenni Fischer
|
Cakes and Scribbles
|
Toddling Into Madness
|
Mermaids' Makings
|
Mud Hut Mama
|
Here Come the Girls
|
All Done Monkey
|
Small Potatoes
|
Little Artists
(358)
Filed under: Cooking, Cooking/Baking, English, Home · Tags: cooking, ground beef, pasta, spaghetti