Our family discovered Hanna Park last summer. It only took minutes to become one of our families favorite locations.  Located on the beautiful sandy shores of the Atlantic Ocean, Hanna Park has just a little bit of everything.  Beaches, freshwater lakes, camping and even a splash park.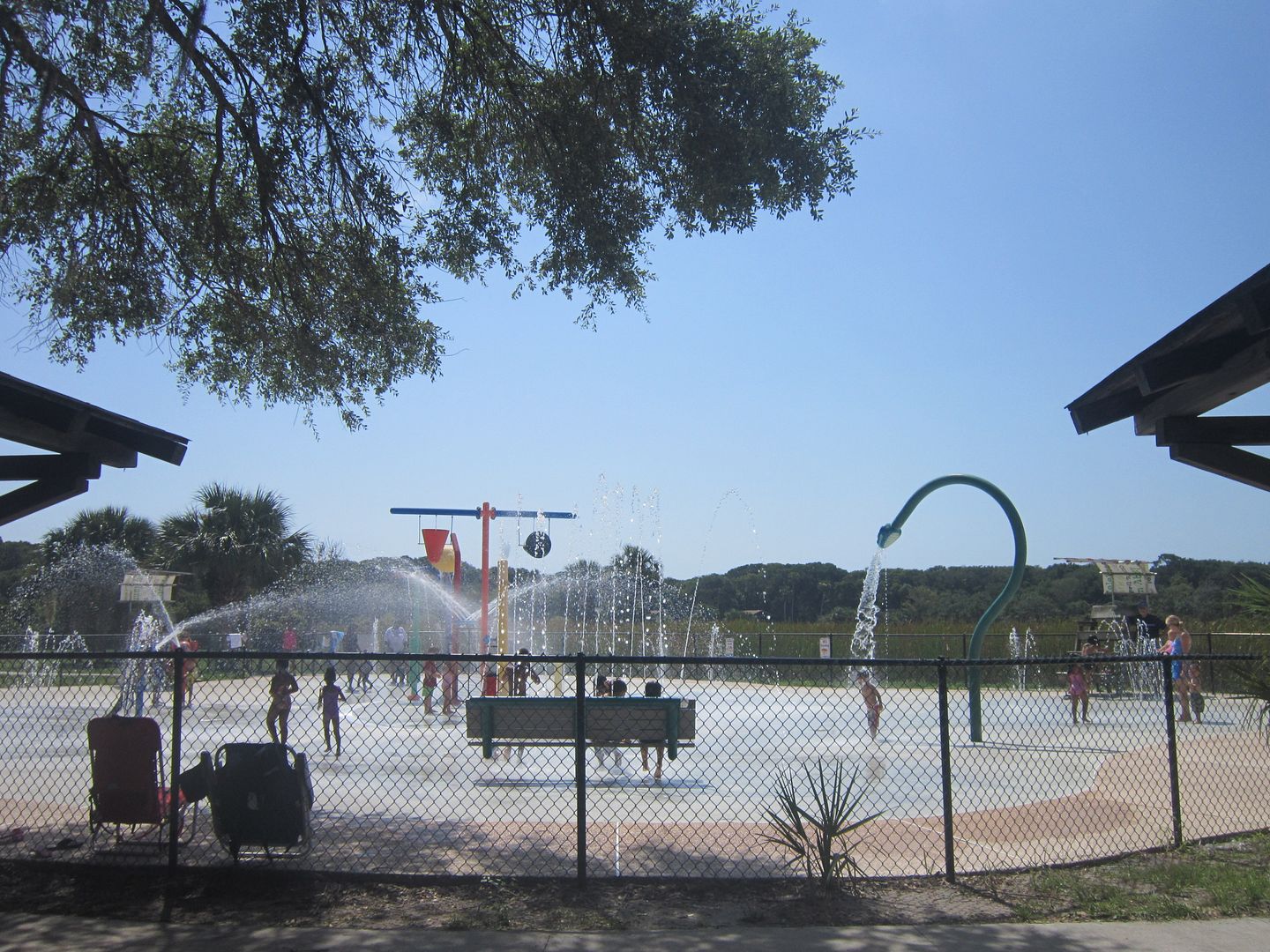 The splash pad is one of the kids' favorites. It is perfect for C. to run around and play in, which I love.  The only thing I do not like is the fact it is on a hard concrete surface. Beware of skinned knees. We got one and the lifeguard did not have any band-aids.  Skinned knees and all we had a fabulous time and have went back. The Splash Pad is located relatively close to the lake area but it is fenced in. Surrounding the area are large beautiful oak trees and wooded areas giving lots of shade and picnic tables. Several of the picnic tables also have barbecue grills. I highly recommend you pack a cooler and your own lunch. Once inside the park it would be a bit of a pain to pack up and go back out for food.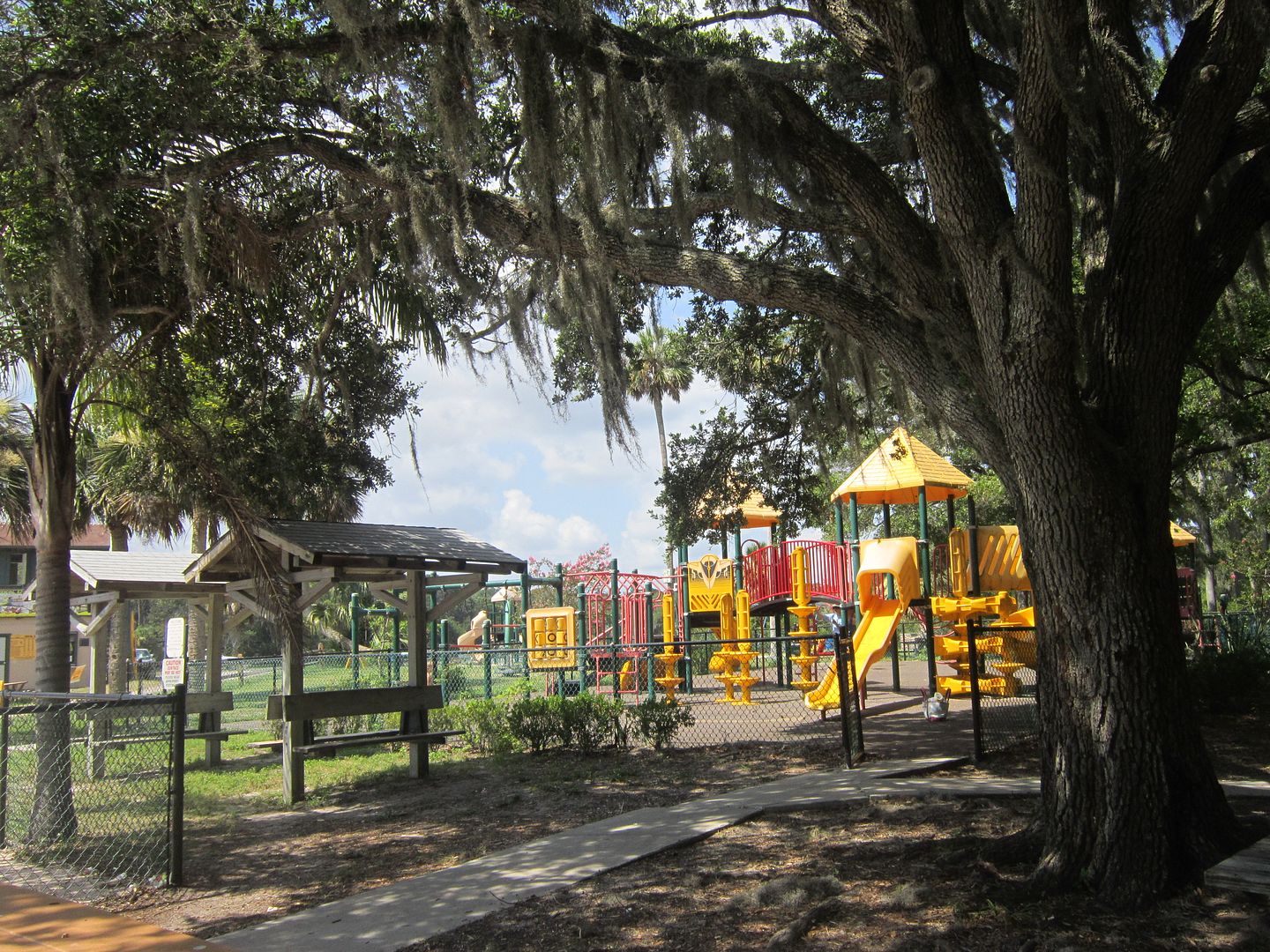 The playground area is located just outside of the Splash Park.  As you can see there are several benches that sit around the playground. It faces the lake and also the picnic area.  If you have a child that will take off, beware they can get to the lake without a lot of effort. So be watchful!
The lake is quite lovely.  It is a 60 acre freshwater lake where you can fish, canoe, kayak and paddle boat.  Boat rentals are an additional cost from your park entrance fee.  We rented a paddle boat for four and it was $20 for 1/2 an hour.   On our paddle boat adventure we saw several different turtles and birds.  There were several signs up and about warning to not feed the alligators. Which that made this chicken Mama just a little bit nervous. You can also bring your own canoes, paddle boats or kayaks if wanted.  They provide life jackets when you rent a boat.  There are plenty of great fishing spots so don't forget your poles and bait.
We choose to do the beach last but you could do it first or last. Hanna Park is located on the beautiful shores of the Atlantic Beach. It is hard to believe when you are playing at the lake and splash pad that just around the corner is the beach.  On the North side of Hanna Park is one of the prime surf spots for Jacksonville, Florida. It is named the Poles because of a line of poles that mark the border between Hanna Park and the Mayport Naval Station. If you are lucky you will get to see some boats coming in. The littles love that.  The beaches are wide and sandy. The walk down to the beach from the parking lot is not too far. There are several showers set up by the parking lot where you can rinse off and get cleaned up. You can find shells and also shark teeth along this beach.  There are Lifeguards on duty here!  The sand dunes are protected here so stay off of them and on the paths.  You will also find turtle nests during the summer months.  They are usually roped off by orange netting like area (see the background of above photo). If you do see a nest please do not mess with it, just look.
Hanna Park also has over 300 campgrounds available. Visitors may camp in RVs, tents or one of the six cabins available.  Whether visiting for just the day, or spending a few days at the campground, one thing is for sure: Your family is bound to have endless fun at Hanna Park. 
Kathryn Abby Hanna Park is Located at:
500 Wonderwood Drive, Jacksonville FL
Hours:8 a.m. – 8 p.m. daily, April – October
8 a.m. – 6 p.m. daily, November – March
Admission: Early Bird Passes from 7am to 8 am
$1 per person from 8-10 am
$3 per carload up to 6 after 10 am
Camping Fees:  Tent camping $20.34 including tax / RV camping $33.90 including tax/ Cozy Cabins $33.90 per day, including tax, two-day minimum stay.
You can find out more about Hanna Park  at the City of Jacksonville Parks Page . Catch our  review of Hanna Park here at Living at The Whiteheads zoo.
(6234)